Kay's RV
Moriarty NM
1/2 Mile West of TA Truck Stop on Route 66 with yellow pipe fence
(505) 220-5796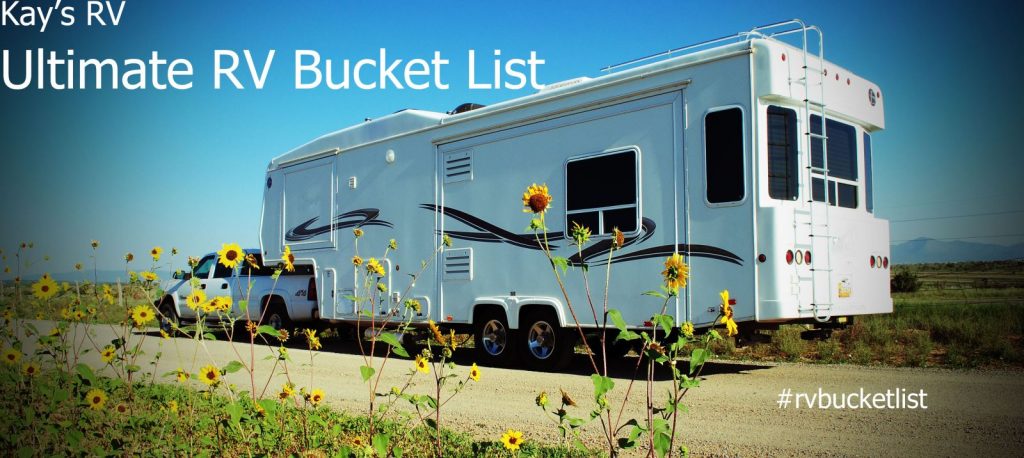 ULTIMATE RV BUCKET LIST
Calling all RV'ers!  Whether you are a full-time RV'er traveling the country or occasionally take an RV trip for a weekend getaway, here are adventures everyone should experience while RVing.   
We'll be updating this page with new ideas, so keep checking back.  As you complete your adventures, don't forget to tell us about all the fun!  Post your stories and photos to www.facebook.com/kaysrv.  #rvbucketlist
1.  See the world– Okay, so this is an obvious RV bucket list item, but travel is the main reason we love to RV.  Pick a destination, explore new places, and enjoy the journey.  Try to visit a new place at least once a year!    
2.  Experience RV'ing during every season– Nothing quite beats an ocean view during the dog days of summer or winding through roads lined thick with changing foliage in autumn. Make it a goal to take a trip in your RV at least once during each of the 4 seasons!   
3.  Try out a new outdoor hobby– Try your hand at fly fishing, kayaking, hiking, rock climbing, surfing, or any other outdoor hobby.  Not only are these activities a fun form of exercise, but they'll allow you to take on an active participant's view point to really experience your destination- much more so than you would on observation alone.  
4.  Join an RV group– There's no better way to meet new people and make lasting friendships than joining an RV group.  Not to mention, they often have great perks and benefits for members.  Many of the campouts and rallies include fun activities, a chance to learn new things, and share experiences with other RV owners.  You can find an RV group for just about any demographic, lifestyle, or interest.  Check out some of these popular RV clubs and associations: 
Good Sam Club & Local Chapters- Good Sam Club in an international RV organization whose membership can include a variety of discounts and benefits.  The Club also has over 1,500 local chapters dispersed across communities all over North America.  Local chapters give RV'ers the opportunity to go camping with friends close to your area, all while supporting the mission of being a Good Samaritan.     

Escapees RV Club- Escapees RV Club in one of the largest RV groups in the nation, boasting campgrounds, rallies, special events such as "RV Boot Camp", seminars, mail forwarding services, magazines and other support resources. 

Manufacturer or Brand Clubs- Do you love the RV you own?  Why not go camping with others that love that brand as much as you do?  Many of the manufacturers have clubs and rallies for owners of brand specific RVs and it can be a lot of fun to pull into a campground full of RVs that match yours! 

Sisters on the Fly- Talk about girl power!  These ladies are dedicated to empowering women on their travels in vintage trailers. 

SMART (Special Military Active Retired Travel Club)- This group's mission is to help military families while "seeing the country we defend".    

Loners on Wheels- If you want to enjoy the single lifestyle in the company of other singles, this group is the RV club for you! 
(Note:  Kay's RV does not endorse or promote any of the particular RV clubs mentioned above.  While these are popular places to start your search for an RV club, always do your research to find the best RV club for you!)      
5.  Share your love of camping with children– It's no secret that getting kids to the outdoors can boost their confidence, teach them new things, and help you create lasting memories with them while they're still young.  Whether it's your kids, grandkids, nieces/nephews, or family friends, invite the kids in your life on an RV trip.  The gift of introducing them to the great outdoors is one they'll never forget. 
6.  Make sure all drivers know how to pull an RV– The idea of learning how to pull an RV can sometimes seem daunting to those of us used to riding shotgun, but you never know when an urgent situation may require it.  The best advice from our customers?  Find an empty parking lot and practice pulling, parking, and backing in your RV.  Make sure to watch out for light poles, but the painted lines in the parking lot are a great tool to learn when to start turning the wheel.    
7.  Try a new spin on s'mores– Here at Kay's RV, we think the perfect s'mores is crucial to a good campfire!  Take this camping tradition and mix it up by trying a new recipe.  For ideas, check out our "We <3 S'mores" Board on our Pinterest page.  Who knows, you might just discover a new favorite! 
8.  Find a favorite campground– With all the constant changes an RV lifestyle can bring, sometimes it's great to have that one favorite place you know and love.  For our family, we discovered a campground along the Oregon coast right on the beach in a small seaside town.  It was a family favorite to practically step out of our 5th wheel to explore coastal tide pools brimming with sea life and it became a regular stop during our visits to the area.   
9.  Start a tradition– Maybe your tradition is making homemade cinnamon rolls in your RV every trip, the classic telling stories around the campfire, or making an RV outing the standard for a birthday or holiday.  Whatever traditions your family comes up with, they'll help to ensure your time spent RV'ing is even more meaningful.
10.  Volunteer in your RV– Put your RV travels to use helping others!  There are some great opportunities to get involved in causes you believe in and simultaneously enjoy some camping.  Look into the many volunteering opportunities available, such as these:   
Habitat for Humanity RV Care-A-Vanners- help build Habitat for Humanity houses while staying on site in the comfort of your RV. 

Servants on Wheels Ever Ready (SOWER)- this nonprofit organization is made up of RVers who volunteer for different Christian nonprofits. 

Local events through your camping club or RV dealerships- Clubs such as the Good Sam Club are well-known for their dedication to community causes.  Similarly, many of our Kay's RV customers joined us in June 2013 for our Kay's RV Campout:  Camp with a Cause Benefitting Paws and Stripes, a campout and fundraiser to help veterans receive and train service dogs. 
11.  Learn the maintenance of your RV– Sure, you can normally call your dealership or a service repair business, but if you're miles from home, knowing how to troubleshoot the basic components of your RV could save your trip (and sanity)! 
12.  Document your journeys– Don't let the incredible times you have RVing go unremembered years from now.  Take photos, start a scrapbook or sketchbook, keep a box of memorabilia, send yourself postcards, write a travel journal or type a travel blog.  The ability to look back on all the memories of your travels will be priceless.   
13.  Work camp– Looking for a fun way to fund your RV travels?  Look no further than work camping.  Many campgrounds and RV parks look for seasonal or year-round hosts and employees to work at the facility in exchange for a free site.  Opportunities can also be found within the US Forest Service, State and National Parks, or even at some awesome locations such as Disney Land or select historical lighthouses!    
14.  No Technology Challenge– See if you can go an entire trip without the use of cell phones, laptops, television, tablets and e-readers.  Not only does unplugging all the devices provide the ultimate relaxation, it gives us quality time to spend focusing on the really important things like bonding with friends and family and truly soaking in all the natural beauty of the great outdoors.  Bonus points if it's while dry camping!     
15.  Go Stargazing– The brilliant night skies seen away from the intruding lights of civilization are nothing short of spectacular.  During your next RV trip, pick a clear night, turn out the lights and head outside.  Enjoy the view!